Terracon Golf Tournament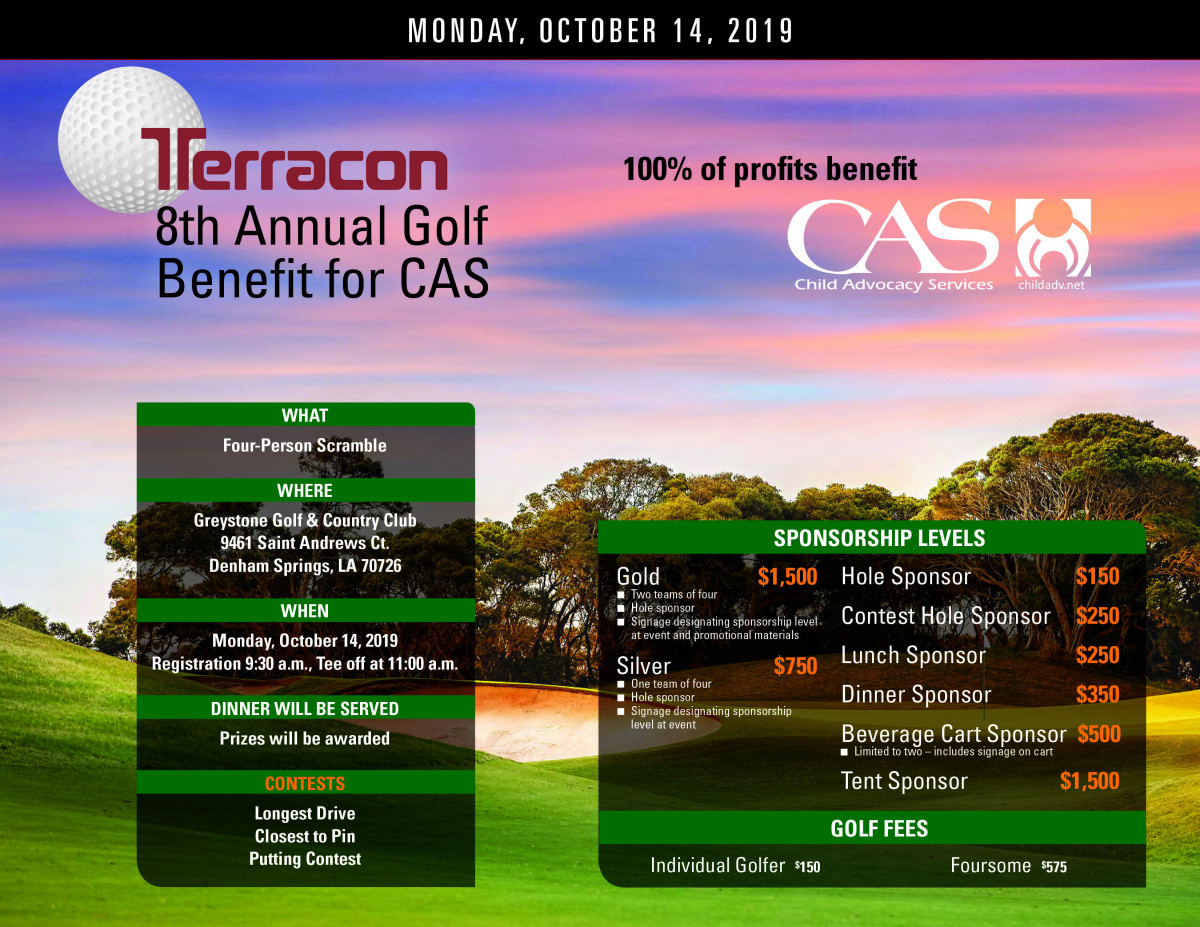 Child Advocacy Services is proud to be the sole beneficiary of Terracon's 8th Annual Benefit Golf Tournament. 100% of the profits from this event will support services for children. In 2018 alone, CAS served over 1,400 children through the Court Appointed Special Advocates (CASA) and Children's Advocacy Center (CAC) programs. We need your help to do more! Help us by playing in the 8th Annual Terracon Golf Tournament or becoming a sponsor!
Registration
Register here to play in the Benefit Golf Tournament.
Sponsorships
Click here to become a sponsor.
Donations Accepted
We are asking for any help that you and/or your business would consider donating, such as a gift certificate(s), golf items, or sponsoring a package for our golf tournament. Your generosity will make it possible for Terracon to help us reach our 2019 goal. For more information, contact Lauren Reynolds at 985-902-9583 or lreynolds@childadv.net.
Thank You!!!

Gold Sponsor
Labarre Associates
Silver Sponsors
Block Companies
Cooper Electric
Pace Analytical Services
Quality Concrete
The Shobe Financial Group
Triad Electric & Controls, Inc.
Beverage Cart Sponsors
Facilities Maintenance Management
Rudolph Specialty

Dinner Sponsors
Boh Bros. Construction Co., LLC
Cooper Electric
SGS North America
Lunch Sponsor
Carubba Engineering
Cooper Electric
Fox:Nesbit
Guarantee Restoration and Evironmental Services
Massad Olinde Benefits Consulting
Contest Hole Sponsors
Carubba Engineering
CoreTechs
GPRS, Inc.
SGS North America
Total Energy Solutions
Hole Sponsors
Clean Harbors
Concrete and Aggregates Association of LA
Henry C. Eyre, Jr. Inc.
Maria's Mexican Restaurant, Inc.
Professional Technology Support Services
The Kinchen Group
Tricoeur Services, LLC