Help Save CASA Funding!
Unimaginable! NO CASAs for Children in LA!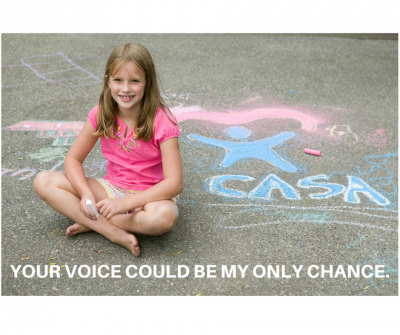 Unimaginable! NO CASAs for Children in Louisiana!
Court Appointed Special Advocates (CASA) has served children in Louisiana for over 25 years. State funding for CASA is a part of the Judicial Budget through the Louisiana Supreme Court. Countless life changing impacts will no longer be available and futures are being ERASED.
CURRENTLY, the Judicial Budget has been cut so drastically that the Louisiana Supreme Court has announced it will no longer be able to provide assistance and will ELIMINATE CASA funding.
What YOU Need To Know?
ALL 17 local CASA Programs will be impacted!
More than 4,000 children count on their CASA volunteers; 3,000 more children in foster care are waiting for a CASA.
CASA volunteers have changed, more often saved, the lives of vulnerable children, reduced the time spent in foster care, reducing the cost to the state, and ensuring productive futures for Louisiana's children.
Judges rely on CASA volunteers in making life-changing decisions for children.
CASA is good for children, good for our courts, good for our community! It is an effective public-private partnership.
CASA saves money for Louisiana and invests community volunteers as a solution.
Losing CASA funding for Child Advocacy Services means $1 million in losses to the local economies served, including $700k in lost salaries and health insurance for 18 families and 30 individuals, and $300k in lost commercial activity.
Beyond numbers-CHILDREN will not have a VOICE.
URGENT!
A CASA Advocate will no longer be an option to abused & neglected children in Louisiana.
We have so many incredibly valuable priorities in Louisiana. MAKE CASA-Make Children a priority.
CHILDREN need your VOICE. We need you TODAY-Contact your local Legislator. Ask to restore funds to HB698 our Judicial budget and the Louisiana Supreme Court's Programs-CASA! CLICK HERE!
Email. Letter. Click here for a customizable letter to send to your legislators.
Our Louisiana Legislators are going into a Special Session. It is CRITICAL they hear directly from YOU on the importance of these services in our local community.
YOUR VOICE COULD BE OUR ONLY CHANCE.
DOWNLOAD THESE IMAGES TO SHARE ON SOCIAL MEDIA USING #SAVECASA.

Only Chance

Only Chance - Classroom

Only Chance - Sidewalk Chalk

Only Change - Courtroom

Save CASA